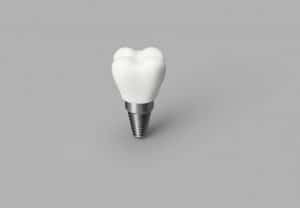 The best way to restore your smile after you've experienced tooth loss is to deal with it as soon as possible. The best way to deal with tooth loss in a way that fully restores your smile's health and function is to replace your lost teeth with dental implants. Unfortunately, not everyone who experiences tooth loss immediately considers dental implants to replace them. Many others have already dealt with their tooth loss by receiving a conventional dental bridge or denture that doesn't come with dental implant posts. Today, we examine why it may be a good idea for most tooth loss patients to consider dental implants, and how they can help improve the results of their smile restoration.
As soon as you experience tooth loss
The problems that stem from losing teeth begin the moment a tooth is lost, and they only get worse over time. The reaction of your dental ridges is one of the most significant of these consequences. With fewer teeth roots to stimulate it, the bone structure of the ridge can gradually become smaller and weaker. The sooner you replace your lost teeth roots with dental implants, the more effectively you can prevent this loss and maintain the health and integrity of your jawbone.
Before you undergo tooth extraction
When you have to have a tooth extracted because it's significantly compromised, the extraction of the tooth is typically only part of your smile's restoration plan. After it's removed, your smile will depend on you replacing the tooth with a lifelike restoration in order to reestablish its role in your oral health and bite function. Because the consequences of tooth loss begin as soon as the tooth is uprooted, replacing an extracted tooth with a dental implant as soon as possible can be the best way to fully restore your smile. For optimal results, you should plan your tooth replacement procedure ahead of time, before your tooth extraction.
When it's time to upgrade your restoration
After years of wearing a conventional dental bridge or denture, the natural wear on the restoration can begin to show. In addition to this wear, the changing shape of your dental ridge following the loss of your teeth roots can cause your restoration to become loose. Resizing, readjusting, or replacing the restoration may be necessary, and this may prove a good time to consider upgrading your prosthesis with one or more dental implant posts.
Learn if you should consider dental implants
Dental implants can restore more of your oral health and bite function when you experience tooth loss, need to have a tooth extracted, or want to improve the quality of your bridge or denture. To learn more, schedule a consultation by calling the Dental Centre of Conroe in Conroe, TX, today at (936) 441-4600.