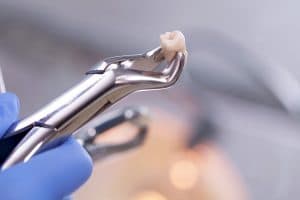 When you need emergency dental care, you sometimes end up needing your tooth extracted due to a bad case of decay or a bad break. However, you may end up having a different kind of dental emergency, in which your adult tooth falls out. While this can be caused by many aggravating factors, losing a tooth and having a gap in your smile can not only be embarrassing, but also not the best for your dental health. So, in today's blog, your Conroe, TX, dentist will discuss how and why we fully replace your missing teeth to restore your full smile.
What Is a Dental Emergency?
There are many issues that could be considered a dental emergency. Typically, a dental emergency would be considered to be anything that is bad for your dental health and can't wait until later. A bad toothache that won't go away, a bad chip, crack, or break in your tooth, or, certainly, losing a tooth (as an adult) all count in that definition. This is because there are often underlying issues that need to be addressed in these situations, and because you are at a higher risk for infections and bad cases of tooth decay and cavities if you wait to take care of your issue. So, if any of these things happen to you, you should call the Dental Centre of Conroe as soon as possible.
Why Should My Tooth Be Restored?
When you find yourself with a gap in your smile due to either extraction (which could result from a dental emergency) or tooth loss (which itself is a dental emergency), it is important to talk with your dentist about your options for restoration. When you are missing a tooth, the root is no longer present to stimulate your jaw when you chew or bite down. Unfortunately, this means that your brain stops sending as many of the essential nutrients that are necessary for maintaining the health and strength of your jaw and the rest of your teeth. This can mean that your jaw and other teeth do not get the vitamins that they need, which can cause them to break down, leading to the loss of more teeth and even your bone structure. In addition, your teeth can shift around to try to fill the gap, which will cause your smile to appear crooked. So, if you lose a tooth, you should always ask about the best options for you, which likely include dental implants.
Options We Offer
Whether you have lost one or several teeth to extraction or tooth loss, your best option for replacing your entire tooth from the roots up is dental implants. With implants, we can create a full new tooth that not only looks beautiful, but also keeps your smile healthy. If you are interested in learning more, schedule a visit by calling the Dental Centre of Conroe in Conroe, TX, today at (936) 441-4600. We also proudly serve patients who live in Houston, Magnolia, Huntsville, and all surrounding communities.