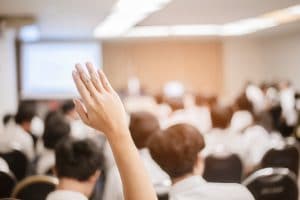 Removable dentures can give you back your complete smile, help you bite and chew with comfort, and generally help you move past your troubles with tooth loss. With that said, people can grow frustrated with appliances that may feel less than secure, or seem to offer less support than they hoped for. Over time, you can even start to worry that your custom prosthetic no longer provides a secure fit. These issues can be addressed through implant-held dentures, which provide a more stable alternative for prosthetic work. Your Conroe, TX dentist has experience working with patients to give them a permanent appliance that can fully restore their smile while providing more comfort and functional support!
Dental Implants Can Give You Long-Term Support For Your Dentures
Dental implants provide permanent support for prosthetic restorations. When a dental implant is used to hold a dental crown, it is easy to picture it as an artificial root for a replacement tooth. Implants are set directly into your jawbone, and they imitate the kind of support that natural teeth enjoy from their roots. With dental implants, a series of implants can be effective at keeping a restoration in position. Four to eight posts tend to provide sufficient support for a patient's appliance.
Making Plans To Restore A Row Of Teeth
Losing an entire row of teeth can be devastating to your confidence as well as your dental function. Because we can provide patients with a permanent denture, it is possible to give them back a full smile that also makes biting, chewing, and speaking more comfortable. After an initial evaluation to make sure you can be approved for treatment, we can determine the ideal placement for the implants you will receive. After the implant placement process has been completed, you can have a custom-made denture secured to the posts!
Implants Can Also Secure Your Partial Denture
Partial dentures can be beneficial for individuals who have lost several teeth, but have some healthy teeth remaining. The partial appliance is made to work around these teeth, which enables your dentist to fully restore your smile without having to craft and place multiple prosthetic pieces. If you are someone who would benefit from partial dentures, we can work with you to plan the placement of a restoration that is secured with dental implants. Like full dentures, partial dentures held this way can stay secure and make you feel at ease with how you can bite, chew, and talk.
Your Conroe, TX Dentist Can Restore Smiles With Implant-Held Dentures
With implant-held dentures, patients can feel more confident in their appearance and oral health! Dr. Richards has helped many individuals regain a full smile through prosthetic work that is reliant on implants to give their restorations lasting stability. To find out more about implant-held dentures, or to learn more about our practice, call the Dental Centre of Conroe at (936) 441-4600.